"Blacksmiths," a painting from the archives of the History Museum of Mobile, affords a closer look at Great Depression-era Mobile.
Relive some of the biggest concerts in Mobile's history through the eyes of those who attended.
There are many words to describe Police Chief Jimmie Flanagan's office, but "orange" is not one of them.
In honor of Mobile Opera's 75th anniversary, Forrest Wilson Jr. recalls the early days of his 45-year stint in the chorus.
Potter Charles Smith, known the world over for his meticulous Afrocentric and ceremonial vessels, sits down with MB to reflect on his purpose, passion and legacy.
Writer Audrey McDonald Atkins explains that, down south, "greasy" is one slick word.
MB's contributing food fanatics share the local dishes that made them hungry for more.
Brenda and Jeff Bledsoe host a musical evening in Silverhill.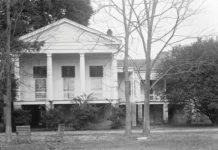 What plantation home stood where UMS-Wright Preparatory School is today?
A minimalist white box in the heart of Spring Hill stands in proud contrast to the traditional homes for which the Port City is known.